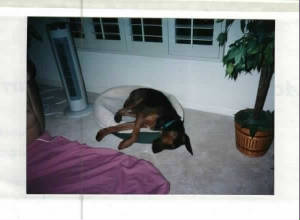 Emmy's favorite bed
Emmy loves this tiny bed! Unfortunately she recently decided to rip off the lining and shred the foam so no more bed! She keeps looking for it too - I guess she hasn't figured out cause and effect!
Emmy is all worn out and happy from playing all day at doggie day care!
Emmy with Santa 2001
Emmy does NOT think this is fun! LOL!

Emmy celebrates her first birthday at It's a Ruff Life, her doggie day care.
Emmy & pals at Doggie Day Care
Because I work all day, I decided that Emmy needed play time, socialization and just plain fun, so I take her to It's A Ruff Life Dog Daycare & Activity Center where she gets to play to her hearts content twice a week.